Dr. Bobbi Kopel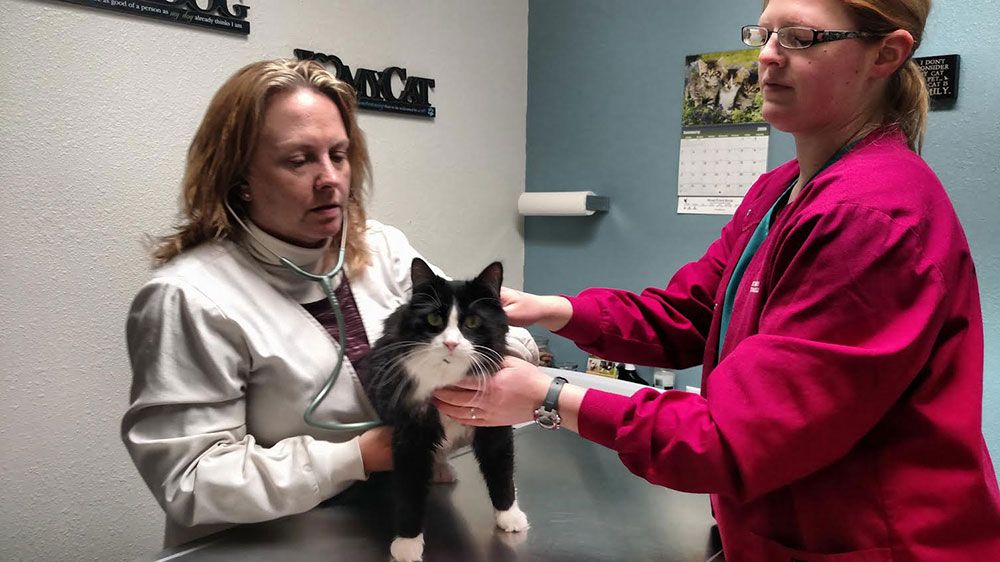 I was born and raised in Williston, ND, attended NDSU in Fargo (GO BISON!!) to obtain my pre-veterinary degree, and then went to Oregon State University for veterinary school. After graduation, I worked in an all feline clinic in Vancouver, WA for 7 years. Missing the Midwest, I took a job at a small animal clinic in Bemidji, MN, where I literally felt "thrown to the dogs", after only doing cats for 7 years! Fortunately, all my canine medicine quickly came back to me. I met my husband-to-be from Olivia, so after moving here I commuted to Little Falls, Sauk Centre, and finally Willmar in order to be closer to Olivia. In October of 2011 I purchased the clinic here in Olivia, changing the name from Veterinary Clinic of Olivia to Olivia Pet Clinic to stress the fact that I only see pets, and have been very glad that I have done so.

I am a strong believer that pets are not a luxury-we don't just "get" to have them. Pets are a responsibility, and we are blessed to be their caretakers-for their entire life, not just for what is convenient for us. I rely on wellness and preventive care to keep your pets healthy-regular physical exams, routine blood screens, and probably most of all-comprehensive dental care. Why wait for disease to occur and try to treat it when there is so much we can do to prevent disease in the first place? My first "family" of pets is now gone, but they deserve special mention as they were with me before, during, and after my veterinary training, and they helped me so much. Aly was a feisty black and white medium-haired cat who I lost when she was almost 20-she was and will always be my soul mate; Arthur, a beige and white tabby who died suddenly at the age of 14 ½ and through his death helped me to know what clients go through when they lose a pet-probably the most valuable thing a veterinarian can learn…and Rikki, a beautiful brindle Plott Hound, who beat cancer and chronic liver disease , and left me at the too young age of 14 1/2. I am first and foremost a cat person, but she was MY dog. I was blessed with a crazy pug named Aimee Francine, who left me too suddenly at the age of only 2. I currently have Noah, a handsome 16 year-old grey and white long-haired cat who has chronic dental issues, has been treated for hyperthyroidism with radioactive iodine therapy, has had skin cancer, and most recently has been diagnosed with intestinal lymphoma; Hank is a 13 1/2 year-old brown tabby who is a great lap-warmer, and Arnold is a 6 1/2 year-old, long haired black and white cat that I rescued and raised from the time he was about 2 weeks old. He is an amazing fetcher, and no paper scrap or paper money is safe from him! Ike, Isabella, Beau, and Herman are cats that have chosen to live outside on my property, and let me feed and take care of them. I have also lost outside cats: Edgar, Jimmy, Harriet, Steven, Sally, Gwen, Luke, Leon, And Strange Orange Cat-who came into my life for a time and gave me so much pleasure- I miss them all, wherever they are. I also have Murphy, a 17 year-old chocolate lab that came with my husband, Zeke is a lab-coonhound cross that I rescued -he is probably about 8 years old, and Sonny, who is a 10-year-old pug that I acquired from a rescue group. He had been moved around a fair amount in his life, but he has his forever home with us now.
​
I am married to Tim, who farms in Olivia with his brothers, raising crops and steers. We have a son named, Edgar, who has surpassed my pets as the light of my life!! In my spare time (of which I have very little!) I enjoy reading, hiking, scrapbooking, 80's music, concerts, and shopping.
Rachael Drange
Hi my name is Rachael Drange. I am originally from Grove City, MN and graduated from ACGC High School in 2010. After finishing high school I attended Ridgewater College for two years to obtain my AAS in Veterinary Technology. I completed my internship at Legacy Equine Centre in Glenpool, OK. For my last two weeks of internship I did an exchange program in Denmark to see how veterinary medicine differs between countries. On my return to Minnesota I took my board certification and passed to earn the title of Certified Veterinary Technician. With that I began to look for a full time technician job. It took me a couple tries to find a clinic I enjoyed working in. In February of 2014 I began working at Olivia Pet Clinic and I absolutely love it. In August of 2014 I moved to Olivia to be closer to my job, so far it is going well!

I have a dog that I got from a humane society in 2011. Her name is Mona and she is my best friend. She has been with me through many moves. She cheers me up when I have a hard day and is always up for a good run. I also have a horse named Delila. I have had her since the moment she was born. It has been a great joy to watch her grow up into the beautiful horse she is today. I have been working on training her under saddle and she is doing very well. One day I hope to have her join us in the Corn Capital Days Parade!
Karen Lambert
Hi, my name is Karen Lambert. I was born & raised in Kansas with a sister & two brothers. We moved to Olivia from Kansas in 2012, to help take care of my mother. I have done secretarial work for most of my life & decided because of my love for animals, that I wanted to change my career path, to be able to work with them everyday. I took an online course through U.S. Career Institute & received my Veterinary Assistant & Animal Care Certificate in 2010.
​​​​​​​
I am married to my wonderful husband Paul who is currently retired but is working part-time for the post office. I have 3 sons, Jeremy & spouse Steven, Christopher, Brandon & spouse Megan, a stepson Jason, & a stepdaughter Kristi & spouse Brad. We have 5 grandchildren, Baylie, Hunter, Colton, Brady, & Breckin, who are the light of our lives!! We will soon be welcoming & meeting our 4 new grandsons, as Brandon & Megan are expecting quadruplets, we are so thrilled!! Also, part of our family is our 2 cats, Missy who is 12 years old & Callie who is 6 years old. They bring us such joy & laughter each day!! Missy is a very lovable, snuggly cat who likes to be held, likes to cuddle & lay on our legs. Callie is lovable to a certain extent, until we have to give her meds, etc. at home or take her to the vet, then she truly makes it a challenge. We love them all & feel truly blessed!!

I enjoy fishing, camping, boating, backpacking, traveling, occasional trips to the casino & spending time with family & friends. This will be a great experience for me & I will learn a lot. I'm very excited to begin my new adventure with the staff, clients, & patients, at the Olivia Pet Clinic!! I look forward to getting to know everyone & working with you all!!
Alicia Krohnfeldt
Hi, my name is Alicia Krohnfeldt. I was born and raised in Alexandria, MN. After graduating from Jefferson Senior High in 2012, I started school at Ridgewater College in Willmar, MN. I graduated in September 2016 after completing my internship at Olivia Pet Clinic and received my AAS degree in Veterinary Technology. I started working at Olivia Pet Clinic right after my internship was completed and plan to take my VTNE national exam in November 2016 to become a Certified Veterinary Technician. I will soon be studying through online schooling to become a certified pet groomer as well.

I have a boyfriend named Travis. We have a beautiful blue cream calico named Misty. She is 3 years old. I saved her from a family who abandoned her when she was only 1 year old. We also have a hyper and loving black lab named Diamond and she is 3 years old as well. Just recently we adopted a very young kitten who was found in a shed without a mother. He was brought to the clinic when he was about 2 weeks old and I decided to foster and officially adopt him when he was about a month old. He's growing up to be a feisty but loving little boy.
​​​​​​​
My hobbies include reading, snowboarding, wake boarding, and watching Netflix shows.